All-Inclusive Real Estate Sign Packages
Our Pricing includes: Sign design, Printing, 3-day sign installation* and Optional Free Sign Removal
Typical dimensions for Commercial real estate signs include 4′ x 8′, 4′ x 6′, and 4′ x 4′. It is also common to use v-signs and double-sided signs to maximize your advertising exposure for traffic travelling in different directions. Please see an example of a v-sign in the sign photos section below.
*3-Day installation upon client design approval
Why use Corrugated for Commercial Real Estate Signs?
The main reason Corrugated is used for commercial real estate signs is the material is very cost-effective. A realtor can order a 4′ x 8′ Corrugated Sign at a reasonable price and the sign is large enough to be easily noticed by passing traffic and pedestrians. Additionally, The installation for a 4′ x 8′ Corrugated sign only requires one sign installer. This helps to cut down on the labour required to have the signs installed, resulting in further cost-savings.
Beyond the cost-savings of using Corrugated for commercial real estate signs, the materials used for the Corrugated sign installations can easily be reused and recycled. Simple Sign includes a free/optional sign removal service for local sign orders. This saves our customers the effort of disposing of their signs once they are no longer required. Also, this will help to keep our signs out of landfills and reduce our company's impact on the environment.
Sign Graphic Design
Our skilled graphic designers work with many commercial real estate companies and property management companies. Commercial real estate signs typically include: company logos and branding, information on the property that is being sold or leased, and contact information.
Order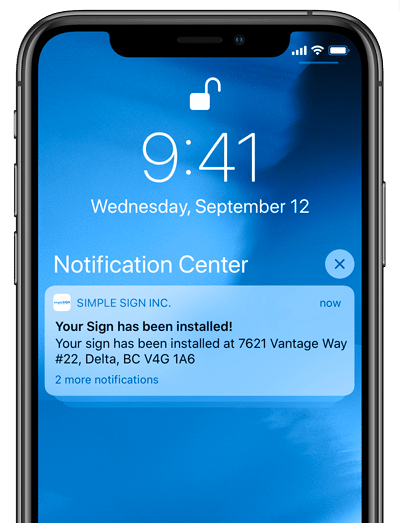 Fast, Hassle Free, Reliable and Recyclable Corrugated Signs
The Simple Sign Advantage
Trusted by the Top Brokerages for the Metro Vancouver & the Greater Toronto Area