Burnaby Development Permit Application Guide
The City of Burnaby does not have a standard "development permit" like most other cities in the Greater Vancouver area. Instead, a Preliminary Plan Approval (PPA) is required. A preliminary plan approval states that the proposed development meets requirements for zoning, change of use, and external appearance. PPA applications are reviewed at several levels by City directors and related departments. All proposed commercial, industrial, institutional, and multi-family developments require a preliminary plan approval from the city before a building permit can be acquired. 
Getting a PPA from the City of Burnaby involves multiple steps. We've listed the steps you need to take to get your project going, and explain how and when Simple Sign can help facilitate this process for you. 
Order a Development Sign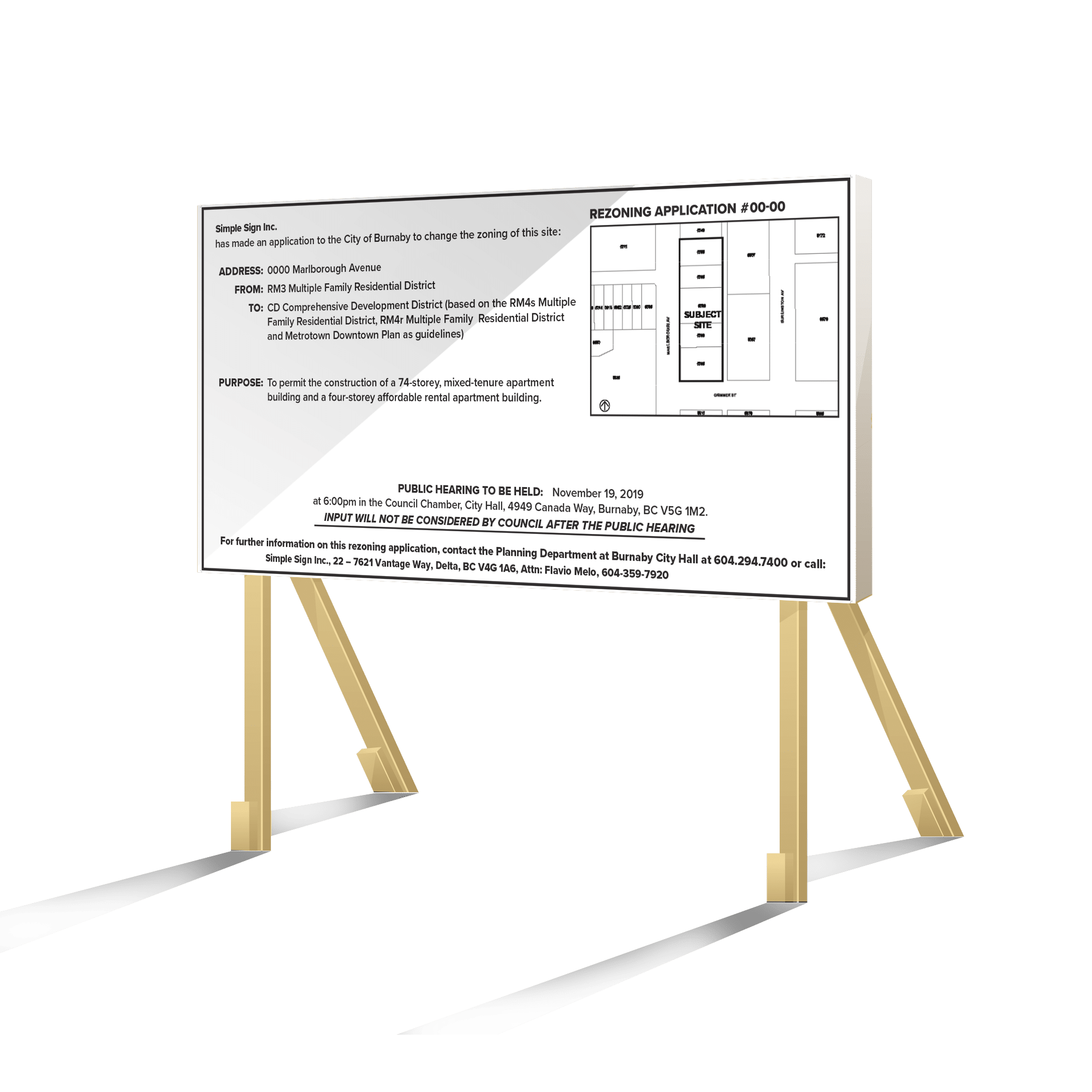 How to Apply for a Preliminary Plan Approval in Burnaby
Step 1: Contact the Burnaby Planning Department
Before submitting an application for a Preliminary Plan Approval from the City, it is in your best interest to get in touch with the Planning Department to review the application process. These meetings allow for the refinement of your application to reduce the chance of potential issues later on. Details to discuss during this meeting include applicable zoning regulations and the required documentation to submit along with the PPA form. If your proposed development also requires a change in zoning, check out Simple Sign's Guide on Applying for a Rezoning Permit in Burnaby.
Step 2: Submit Your PPA Permit Application
The Burnaby PPA form to be filled out can be located here. After reviewing your application to ensure accuracy it can be submitted by email to [email protected]. Supporting documents to include with the PPA form include a scope of proposed work form, agent authorization form (if needed), land title search (if needed), and the current legal plans and charges associated with the property. 
The city will conduct an initial review for completeness, and then a hardcopy of all documents is required to be submitted to the Planning Department. The PPA fee is required to be paid at the time of submission. 
Step 3: PPA Application Review
The Burnaby Planning Department conducts a detailed review of each application to ensure compliance with zoning regulations and additional requirements and policies set out by City Council. Additional review is conducted by other related city departments such as Engineering and Environmental. Time limits for processing PPA applications are not standardized, as variables in type, size and complexity can have a significant impact on processing periods.
Following the review by the Planning Department, a letter will be sent to the applicant including any requirements or revisions needed.
Step 4: Approval of Application and Requirement of Development Signs
Once the final version of the application has been approved by the Planning Department, the PPA form must be signed by the Director and the registered owners. A copy of your drawings is sent to the Building Department for use in building permit application reviews. At this point, the City will request that you install signage at the property to notify the public of your proposed development. 
At this point, the City will request for the applicant to install one or more development application signs on their property that notifies other landowners and community members of your plans, and that an application has been submitted.
The City will send the applicant a letter to outline how many signs are required and also the exact text which should be included on the development application sign(s). This process often means dealing with the hassles approval, dealing with sign shops and the annoyance of building frames to display your signs properly.
The team at Simple Sign can use this letter from the city planner to create the graphic design for the sign and install the development sign quickly and at a competitive price point.
Simple Sign is also able to proof any development sign information to ensure it meets requirements and submit sign information directly to the City for approval.
We guarantee the installation of development signs within 3 business days, removing the burden of handling signage design and installation from your busy schedule. 

Step 5: Development Application Approval or Denial
After the review process of your application is completed by advisors, committees, panels and the public, a decision will be made. If your application is approved, any remaining requirements and adherence to regulations resulting in changes to the application must be updated before you receive a permit. If your application is denied, or was approved subject to regulations that you do not agree with, an appeal can be made here.
Step 6: Issuance of Development Permit and Building Permit Application
After all of the requirements for your project have been met if you had a conditional approval, a development permit will be granted for your project. Once you have received the development permit, a subsequent building permit application will be required within 1 year of your development permit issuance.