Oakville

Development Permit Application Guide
Applying for development in the city of Oakville is currently all done electronically through the Electronic Permits Application Applications page, as of February 1, 2021. Applications for Official Plan Amendment, Zoning By-law Amendment, Draft Plan of Subdivision, Draft Plan of Condominium and Site Plan approval are required to follow the pre-consultation process as required by By-law 2007-106, or any amendments or replacements to that By-law. This process will be held over ZOOM or GoTo app.
In order to make the application for your development easier, we've listed the steps you need to take in order to get your development project going and explain how and when Simple Sign can help facilitate this process for you.
Order a Development Sign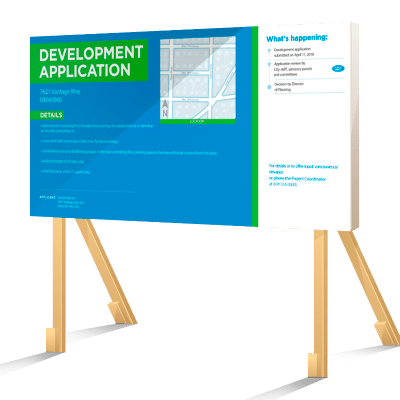 How to Apply for a Development Permit in Oakville
Step 1: Attend a Pre-Consultation Meeting
Attend a pre-consultation meeting before submitting a planning application, which is meant to identify all key issues and the approvals required with your project, and confirm the supporting materials that must be submitted with the planning applications.
Reviewing the Terms of Reference for the Urban Design Brief will be beneficial for most development applications, and a consultation with a Planning and Urban Design staff prior to requesting a Pre-consultation Meeting is recommended. A submission of a completed Pre-consultation Request and all the required supporting material in the Request form must be done 14 working days prior to the pre-consultation meeting electronically.
Step 2: Submit Documentation to the City
To be considered complete under the Planning Act for Official Plan Amendment, Zoning By-law Amendment, draft plan of subdivision and draft plan for condominium the following items must be made available to Town:
Completed application form

Cover letter

All information and materials prescribed by statue

An executed Pre-consultation Agreement

Minutes of developers meeting


All supporting information and materials required to be provided with the initial submission pursuant to the Pre-consultation agreement in a digital format including 2 hard copies of each plan/drawing

The prescribed application fee.

The digital copies must also be named in an organized and descriptive manner according to the following format: File Number_Condensed Name_Version Number_Date (with no spaces)
Step 3: Submit Digital Application
Applicants must also request for permission to submit a new development/site plan application digitally to [email protected] or resubmit to an existing application. In this new submission, you must include the applicant's name, address of site, type of application to be submitted, draft plan subdivision/Draft Plan of Condominium/concept plan/site plan, date of pre-consultation meeting, signed pre-consultation form, signed application form, fee calculation, and date of developer public information meeting or indicate intent to hold a developer public information meeting at the appropriate time.
Step 4: Install Development Signage
At this point, the City will request for the applicant to install one or more development application signs on their property that notifies other landowners and community members of your plans, and that an application has been submitted.
The City will inform the applicant an outline of how many signs are required and also the exact text which should be included on the development application sign(s). This process often means dealing with the hassles approval, dealing with sign shops and the annoyance of building frames to display your signs properly.
The team at Simple Sign can use this letter from the city planner to create the graphic design for the sign and install the development sign quickly and at a competitive price point.
Simple Sign is also able to proof any development sign information to ensure it meets requirements and submit sign information directly to the City for approval.
We guarantee the installation of development signs within 3 business days, removing the burden of handling signage design and installation from your busy schedule. 

Step 5: Send payment for Application Fee
Once the applicants request is received, a reference number will be made available through the Electronic Fund Transfer (EFT) or E-mail Transfer. The Planning file number will be assigned once the fee is received. In the case that it is a resubmission of an existing application where a fee is required, use the planning file number already assigned. Once the Town's finance department has received the fee, Conservation Halton and Halton Region will deem the application as complete and begin circulation.
Step 6: Issuance of Development Permit
After all of the requirements for your project have been met if you had a conditional approval, a development permit will be granted for your project.