Richmond Hill

Development Permit Application Guide
To develop in the City of Richmond Hill, a Building Permit is required to begin a building project, such as the construction, demolition or addition of any building or addition and alterations of signs, installation of fireplaces and wood-burning stoves, as well as decks. The City Building staff must first review your plans to make sure that they comply with the Ontario Building Code, local Zoning By-laws, and other regulations applicable to your application.
In order to make the application for your development easier, we've listed the steps you need to take in order to get your development project going and explain how and when Simple Sign can help facilitate this process for you.
Order a Development Sign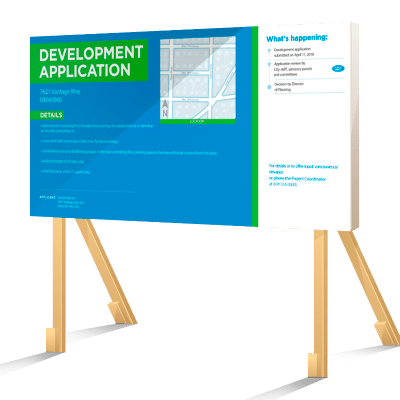 How to Apply for a Development Permit in Richmond Hill
Step 1: Presentation of Development Proposal
In order to begin the development application process, a preliminary discussion with City staff regarding the changes to the property is required. During this discussion, a high-level outline of the changes to the area will be discussed. If the City staff deem the project to require a formal application submission, you will be required to attend a pre-submission meeting.
Step 2: Attend a Pre-Submission & DARC Meeting
If a pre-submission meeting is required, the applicant will provide the conceptual plans to the City staff before the meeting. The submission is then reviewed and the applicant decides if they would like to proceed with the application process. If application is to continue, the submission is then taken  to DARC (Department of Application Review Committee) within 2 weeks to identify if any additional documentation is required. 
The preliminary submission is then presented to DARC, and a discussion is held regarding if any more documentation or plans are required. The City Staff will provide the applicant with a submissions requirement letter detailing what is needed for the application to move forward. DARC will then indicate if a Pre-Application Meeting is Required or not.
Step 3: Attend Pre-Application Meeting
If DARC has deemed a pre-application meeting to be necessary, the applicant must attend this meeting with a detailed site plan and full submission of plans with the City's application forms. If it is decided that any additional plans are needed before moving on, the applicant must provide these within 2 weeks. Otherwise, if the preliminary submission is complete, a submission of a complete application is allowed.
Step 4: Install Development Signage
At this point, the City will request for the applicant to install one or more development application signs on their property that notifies other landowners and community members of your plans, and that an application has been submitted.
The City will inform the applicant an outline of how many signs are required and also the exact text which should be included on the development application sign(s). This process often means dealing with the hassles approval, dealing with sign shops and the annoyance of building frames to display your signs properly.
The team at Simple Sign can use this letter from the city planner to create the graphic design for the sign and install the development sign quickly and at a competitive price point.
Simple Sign is also able to proof any development sign information to ensure it meets requirements and submit sign information directly to the City for approval.
We guarantee the installation of development signs within 3 business days, removing the burden of handling signage design and installation from your busy schedule. 

Step 5: Submit Development Application
The applicant is to provide the city with the completed application forms, fees, required plans and any additional plans needed. The submission needs to include a cover letter, applicant response letter and adhere to the submission requirements letter. If any information has been omitted, a detailed reasoning for omission is required. The applications are then processed and circulated through various City departments for review and approval.
Step 6: Issuance of Development Permit
After all of the requirements for your project have been met if you had a conditional approval, a development permit will be granted for your project.