Toronto

Development Permit Application Guide
To apply for development in the City of Toronto, it must conform to the Official Plan under Section 17 of the Planning Act. The Official Plan is a blueprint for how the City will grow over the next 30 years, and is prepared with the City residents which reflects a community vision for future change and development. According to Section 34 of the Planning Act, it grants the City authority to implement land use controls through Zoning By-laws which are legal documents that implements policies and objectives described in the Official Plan and regulates them.
In order to make the application for your development easier, we've listed the steps you need to take in order to get your development project going and explain how and when Simple Sign can help facilitate this process for you. 
Order a Development Sign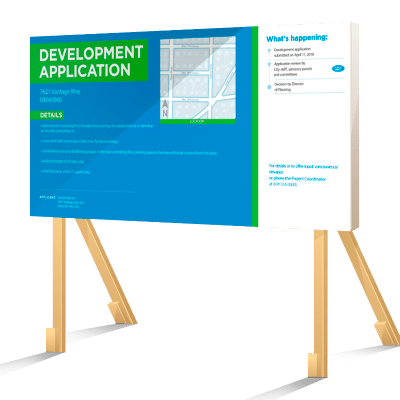 How to Apply for a Development Permit in Toronto
Step 1: Schedule a Pre-Application Consultation
Schedule for a Pre-application Consultation if you are unfamiliar with the application process, or if you do not know which application process you need to file under. Be aware that there are many different types of applications, and alterations you can apply for which will change the process and required documentation. If your proposed development also requires a change in zoning, check out Simple Sign's Guide on Applying for a Rezoning Permit in Toronto.
Step 2: Review your Pre-Application Planning Checklist
After your consultation meeting, you will be provided with a pre-application planning checklist that outlines the materials you will need to include with your development application. At this point, you will need to decide whether to submit a formal application or a standard application, depending on the complexity and nature of your project. You may be suggested to engage any outside professionals after the meeting, including planners, engineers, architects or others.
Step 3: Prepare your Application Materials & Second Consultation
Prepare your submission materials as per the city guidelines outlined in the pre-application checklist. The official application sheet is available from the City of Toronto. Once you are certain that you have all of the necessary documentation, contact your assigned planning consultant to setup an appointment to submit your application. This meeting starts the process of your formal application review, where it will undergo several levels of consideration before approval. For further details on this process, review the City of Toronto's Development Guide.
Step 4: Review of your Development Application
The application is recirculated for further consultation, revisions, finalizations and staff reporting which will then be handed over for a public meeting with the Community Council.
At this point, the City will request for the applicant to install one or more development application signs on their property that notifies other landowners and community members of your plans, and that an application has been submitted.
The City will send the applicant a letter to outline how many signs are required and also the exact text which should be included on the development application sign(s). This process often means dealing with the hassles approval, dealing with sign shops and the annoyance of building frames to display your signs properly.
The team at Simple Sign can use this letter from the city planner to create the graphic design for the sign and install the development sign quickly and at a competitive price point.
Simple Sign is also able to proof any development sign information to ensure it meets requirements and submit sign information directly to the City for approval.
We guarantee the installation of development signs within 3 business days, removing the burden of handling signage design and installation from your busy schedule. 

Step 5: Development Application Approval or Denial
The Community Council reaches a conclusion, and will either approve or disapprove of the application. During this point in time, it is possible for a third party to appeal the decision through LPAT. In the case that it is approved and there are no objections, the zoning by-law will take into effect.
Step 6: Issuance of Development Permit
After all of the requirements for your project have been met if you had a conditional approval, a development permit will be granted for your project.