All-Inclusive Sign Packages
Our pricing includes: sign design, printing, 3-day sign installation* and optional free sign removal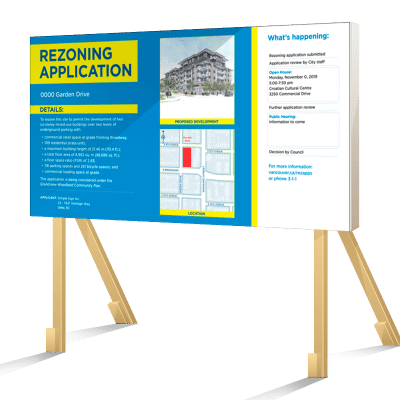 $310
/per sign
We talk to the city for you
Hassle free design
Proofing direct to the city
3-Day installation*
Optional free sign removal
*3-Day installation upon client design approval
Coroplast Signs for
Metro Vancouver
Simple Sign is a sign company providing Coroplast signs for the Lower Mainland. By focusing on Coroplast sign products, Simple Sign reduces our job turnaround time and is able to offer our customers very competitive pricing. Our goal is to make our customer's ordering process easy, painless, and streamlined. We do this by offering an all-inclusive sign service. Our all-inclusive sign service includes: graphic design, design proofing, sign construction, sign installation, and sign removal.
Order Your Sign
Save yourself the headache of messing around with print shops. Simple Sign specializes in commercial signs and will make sure that your signs meet regulatory requirements and look sharp. Signs are fully customizable and proofs can be sent to your city planner for approval.
Time is money in the real estate and development industry. Upon approval of your proofs, Simple Sign will print and install your sign
within 3 business days
. To make sure your signs stand strong, each one is staked or weighted and backed with three 1×4" pieces of wood.
When you're done with your Coroplast sign, Simple Sign will promptly remove and recycle it, free of charge. This saves you the time and cost of removal and disposal and reduces the environmental impact of your projects.
Why we use Coroplast Signs
At Simple Sign, all of our signs are made with Coroplast. Coroplast is a corrugated plastic material that is ideal for signs. Why do we exclusively use Coroplast signs? It helps Simple Sign to reduce our impact on the environment, while offering our customers a reliable and cost-effective product. There are three ways using Coroplast signs enables Simple Sign to reduce our impact on the environment:
Reduce: The Coroplast sign structure produces superior strength and durability at a lower weight. This enables Simple Sign to offer customers a reliable product, while using less overall material.
Reuse: The sheets can easily be reused from sign to sign. Simple Sign offers an all-inclusive service, including a free/optional sign removal service for local signs. Our sign removal makes our customers' life easier, while allowing us to reuse the Coroplast signs. The result, better customer service and keeping our sign products out of landfills.
Recycle: At the end of Coroplast's useful life, it can easily be recycled. When a Coroplast sheet can no longer be used, Simple Sign ensures that the material is recycled, rather than ending up in a landfill.
Typical dimensions of Coroplast signs include: 4′ x 8′, 4′ x 6, and 4′ x 4′. Please view descriptions and photos for our Coroplast sign products below. If you require a quote for a sign, please click here
ORDER
Fast, Hassle Free, Reliable and Recyclable Coroplast Signs
The Simple Sign Advantage
Trusted by the Top Brokerages in Vancouver BC